Sportswear demand benefitted from several shifts in trend over the last decade, but the last two years saw tremendous pick up. As work from home became necessary and home fitness became the only option, comfortable athleisure and activewear saw a sharp rise in demand. On the supply side also, the industry saw major shifts over the last decade. An analysis. 
Historically sportswear remained a niche for professional sporting community, and outside that, demand came from people who were either fitness junkies or were hitting the gym regularly. It is only recently that apparel genres like athleisure and activewear have taken the market by a storm. Pre-COVID as well, the sportswear demand grew rapidly over the years due to younger consumers preferring to appear sporty and wear comfortable apparel in almost all settings. This led to sportswear companies and fashion brands equally, and sometime s jointly, putting out fashionable sportswear or athleisure or activewear catering to this age group. Products such as yoga pants led the athleisure market, more recently especially, generating demand from the women consumers. The onset of the pandemic put this trend on steroids as working from home became necessary and demand jumped up significantly during the last year after plummeting for a small period in 2020. Notwithstanding the recent demand boom, sportswear demand has been on the rise over the last decade as well. Brands have reacted well to this demand, particularly catering more to women consumers, and have taken actions to rise to the call for sustainability.
Sportswear market over the last decade
Sportswear market saw the largest decline in demand in 2020, after the industry-wide shock from the Global Financial Crisis. Through the previous decade, the demand for sportswear remained strong, which can be gauged from the fact that sportswear imports grew from 2010 to 2018 at an average rate of 4.1 per cent year-on-year (y/y). Overall, at the peak of the decade in 2019, sportswear imports grew by 38 per cent from a decade ago in 2010.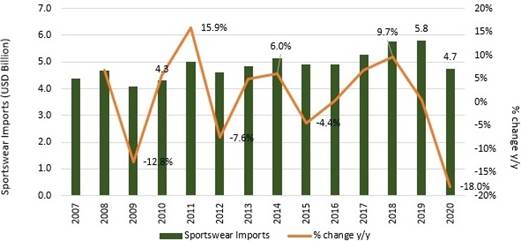 Source: TexPro
Demand was predominantly led by United States and European markets, while smaller markets were also gradually gaining market share. Figure 2 shows the top 10 importers of sportswear globally, reflecting that US and EU markets lost share only marginally over the last decade (2010-2020), while the UK gained share tremendously, from 5.8 per cent to 8.2 per cent. Hong Kong perhaps lost the most share, going down from 7.3 per cent in 2010 to just 2.7 per cent of the overall import demand in 2020.
Figure 2: Share of top 10 importers of sportswear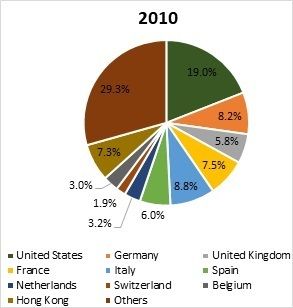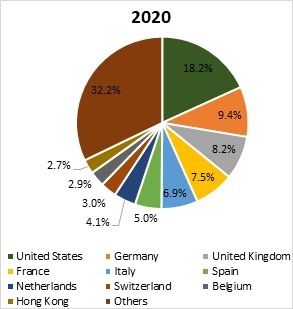 Source: TexPro
On the supply side also, the share basket has changed dramatically over the last decade. China still holds a major position in sportswear supply, enjoying 30.0 per cent of the exports share, however this has reduced significantly from the high of 44.3 per cent in 2010. Benefitting heavily from the wave of trade growth and supply chain shifts was Vietnam, which managed to almost triple its share in the overall sportswear exports between 2010 and 2020. In addition, both Cambodia and Bangladesh gained in the sportswear trade, increasing their shares by 2.8 and 2.5 percentage points (pp) respectively over the same period. European exporters like Germany, Netherlands and Turkey also gained shares by 1.4, 0.8 and 1.6 pp respectively.
Figure 3: Share of top 10 exporters of sportswear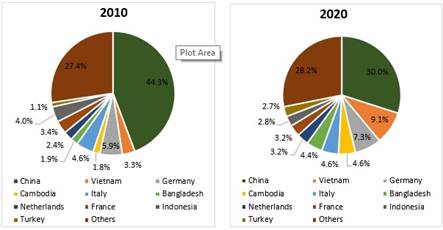 Source: TexPro
Major trends in sportswear
Not only have the sources of supply and demand changed over the last decade, but also the role of technology in sportswear products has become almost inseparable. Another leading trend that has brought more technology into use is greater focus on environmentally friendly materials that can ensure the most comfort for the wearers. The mood of the industry shifted lately to more sustainable sourcing practices, perhaps largely to appear ethical. Women's apparel also attracted increasing attention from sportswear companies compared to a decade earlier.
Innovation in how to make apparel more comfortable, making it available in varied kinds of fits, and suiting different athletes' body types have been the mainstay trends in recent years. For that, sportswear companies have invested heavily in setting up research facilities and employing cutting-edge technology. Adidas, for instance, invested a total of $1.7 billion in R&D in the last decade, while Puma invested more than $500 million between 2013 and 2020. Nike leads the pack in R&D investments, but its numbers are not readily available. One of the differentiating aspects of innovation in sportswear has been to make apparel more functional, regulating temperature much better and providing comfort to the athletes throughout the sessions of play. Some examples being thermoregulating running gear released by PUMA and X-BIONIC or Adidas' HEAT.RDY training tee or Nike's Therma-FIT jackets. If one were to look deeper, much more happens inside the innovation labs of these sportswear giants including 360 degree scanning of athletes' bodies, involving experts from diverse fields like biomechanics, mathematics, kinesiology, etc to test products on performance improvement, injury risk and feel & perception.1  Use of 3D and now 4D printing technology in sportswear, especially footwear, has also helped improve the products for athletes, and led to faster turnaround times for the products.
Technology has also been largely employed by sportswear brands to reduce environmental impact from the production process. Process innovation for reducing emissions and water use has increasingly come to define the brand image of many of the sportswear brands. For instance, Nike reports in its FY19 Impact Assessment Report that 99.9 per cent of its footwear manufacturing waste was either recycled or converted into energy. The report also mentions that its material vendors used 23 billion fewer litres of freshwater since FY16. However, the company has still not been able to reduce its carbon footprint across the value chain as compared to five years back, but that is a metric that it plans to do much better on. The important point here is that sportswear brands are becoming increasingly more conscious of their climate impact and have been taking steps to reduce it. These brands are also perhaps leading the trend as revealed by the Fashion Transparency Index 2021 ranking the largest sportswear brands such as The North Face, Timberland, Nike, Reebok, Adidas, and Patagonia among the leading ones in terms of transparency and tracing impact across their supply chains.
Talking further about sustainability, sportswear companies are perhaps leading the race as they cater to the most environmentally aware and sensitive generation. The sporting giants have led the trend by manufacturing more of their products out of recycled material. For instance, Adidas mentions on its website that more than 60 per cent of its products will now be made from sustainable materials. Alongside, several smaller brands are becoming synonymous with sustainable activewear. Names such as Organic Basics, Girlfriend Collective, Wolven, and similar brands have seen dramatic increase in uptake over the last two years. Likewise, brands like Patagonia, which have been committed to environmentally friendly outdoor wear for long, became the new favourites. A lot still remains to and will change in this segment, since not as many people may be buying sustainable products as the numbers who are concerned about the cause. A study by KPMG in 2019 suggested that even if a large proportion of consumers (64 per cent of those surveyed) globally are supportive and would prefer to buy sustainable apparel, only 13 per cent would actually be willing to pay more for sustainable fashion than what they pay for normal fashion product. Around 60 per cent of the respondents reported to buy sustainable fashion products if they were priced the same as normal fashion.2 
Going forward, demand for sustainable sportswear is expected to grow much faster as the proportion of GenZ and millennial customers will increase. Demand for sportswear made of organic cotton, viscose bamboo fabric and Tencel will likely increase further as consumers become conscious about using natural fibre products. Although recycled polyester material is currently widely used for sustainable apparel, most of this is not recyclable. Also, chemical recycling of polyester is not a viable technology yet.
The third major trend that has stirred a change in sportswear market is the attention to women's apparel. Women's activewear demands have only recently been focused upon, and giant sportswear brands like Nike, Adidas, Under Armour and the likes are only catching up to more competition from brands like Lululemon, which primarily focus on women.3  This has likely happened mainly for a couple of reasons – 1) women's participation in sports has been increasing dramatically over the last two to three decades and 2) the lack of diversity in this segment was hurting these brands by not appealing to a large proportion of women consumers. Similar to the general market, demand for women's activewear is now also tremendous due to women working out at home or just for casual outings, or even to wear to a formal setting. As we go ahead, this segment is expected to capture even larger share of overall sportswear revenues than it is now.
Renewed demand in the pandemic
With the onset of the COVID-19 pandemic, outdoor activities and visits to the gym took a massive plunge the world over. This led to more people becoming cautious of their health and fitness and experimenting with indoor exercising options. Applications such as Peloton, Aaptiv, and Zwift, among many others brought online exercising regimes and virtual coaching to people's homes in a seamless manner. One of the upsides of these trends was the renewed demand for sportswear, and particularly for activewear products for indoor workout sessions. Simultaneously, sitting at home or working from home led to increasing demand for loungewear and sweatpants to make for more comfortable apparel. This happened as demand for office-wear apparel declined sharply during the thick of the pandemic. Data from True Fit's Fashion Genome suggested the same with an 84 per cent rise in athleisure orders by December 2020 relative to the start of the pandemic.4 These numbers are also corroborated by the Sporting Goods 2021 report (jointly published by Mckinsey & Co and WFSGI) suggesting that sportswear companies were more resilient during the pandemic than other apparel companies.5  That trend has continued and grew even stronger in 2021 as is evident from Figure 4.
Figure 4: Performance of sportswear vs apparel imports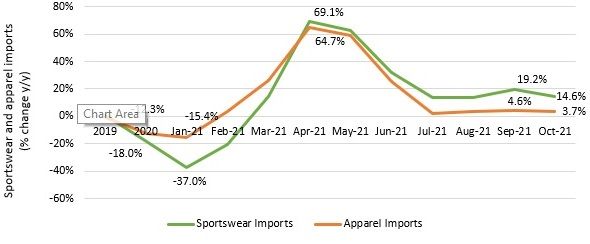 Source: TexPro
To get a better idea about the trend, let's study the revenues of some of the largest sportswear brands globally. Apparel revenues of Nike, Adidas, Puma and Under Armour show tremendous pickup in sales up until December 2020, and then increasing momentum in sales after mid-2021. Here, the analysis includes only these four as the data for category-wise revenue is more readily available and the category for apparel is exclusively sportswear/activewear. Sportswear (only apparel) revenue for Nike grew by an average of 43.8 per cent in the three quarters from March 2021 to November 2021 and was almost 11.0 per cent higher than the 2019 peak in the November 2021 quarter. Similarly for Adidas, Puma and Under Armour, apparel sales spiked up significantly in 2021 compared to 2020. Sales grew by an average of 42.6 per cent, 49.8 per cent and 51.6 per cent respectively until the September 2021 quarter for the three companies. Puma and Under Armour's revenues from apparel sales in September 2021 also overtook the 2019 peak by 33.2 per cent and 7.4 per cent respectively, while that of Adidas remained slightly lower by 2.6 per cent. Region-wise, EMEA and North America remained the stronger markets for these companies due to robust demand. While, on the other hand, demand from China and Asia Pacific was sluggish, implying a decline in revenue for the six-to-nine-month period leading to the latest quarter.
Figure 5: Nike apparel revenue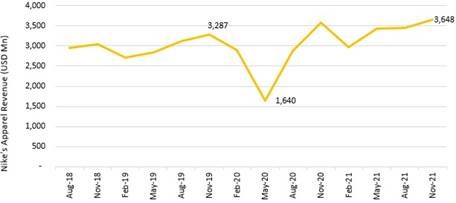 Source: TexPro
Figure 6: Apparel revenue of other sportswear companies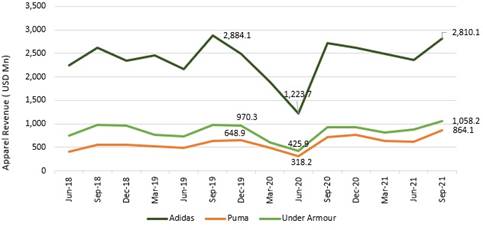 Source: TexPro
Exports yet to see a strong recovery
Demand for all apparel from China and Asian markets remained slim overall in 2021 as COVID-19 restrictions were stricter. China has continued with its zero COVID-19 strategy leading to sharp decline in the consumption demand, even when its supply to the world has become more relaxed. Speaking specifically about the supply of sportswear products, COVID-19 restrictions, along with the logistics issues more recently, made it tougher for markets to bring products to end consumers. However, sportswear exports from the usual hubs flowed well, although not much better compared to 2019. Globally, exports of sportswear are yet to recover fully from the impact of the pandemic. Overall exports during the 12 months to November 2021 were still down by 7.6 per cent from the same period in 2019.
Amongst the Asian exporters, only Vietnam and Indonesia saw a strong performance, while others only saw tepid growth or a continued decline in 2021. Vietnam was able to recover its previous year's losses handsomely, with its exports growing by 22.1 per cent y/y in January-November 2021 after declining by 4.7 per cent y/y during the same period in 2020. Sportswear exports from China, on the other hand, were still lower in January-November 2021 by 25.4 per cent compared to January-November 2019. Cambodia saw its exports rising by only by 12.3 per cent y/y in January-November 2021 after falling by 22.8 per cent y/y in January-November 2020. Due to surge in infections, exports from Bangladesh saw only a marginal increase of 0.5 per cent y/y in January-November 2021, after rising by 3.5 per cent y/y in January-November 2020. Indonesia emerged as a bright performer, growing its exports by 32.8 per cent y/y in January-November 2021 surpassing 2019 levels by 2.5 per cent.
Among the European suppliers, Turkey and Poland saw significant strides in their exports in 2021. Exports from Turkey continued to grow unabated during January-November 2021, after rising by 33.1 per cent y/y during January-November 2020, to levels now 87.3 per cent above those in 2019. On the other hand, exports from Germany were slightly lower than the pre-pandemic levels, with value for January-October 2021 lower by 1.6 per cent compared to January-October 2019. Exports from Italy recovered strongly in 2021 recouping the losses from the decline in 2020, while exports from France remained below levels in 2019 by 5.4 per cent, although recovering strongly by 24.7 per cent y/y in January-November 2021. Belgium saw a further decline in sportswear exports in 2021, with its January-November 2021 exports 17.9 per cent lower than those in January-November 2019. However, Poland, a smaller exporter, saw its exports rise by 21.7 per cent in January-November 2021 compared with the same period in 2019.
Figure 7: Top sportswear apparel exporters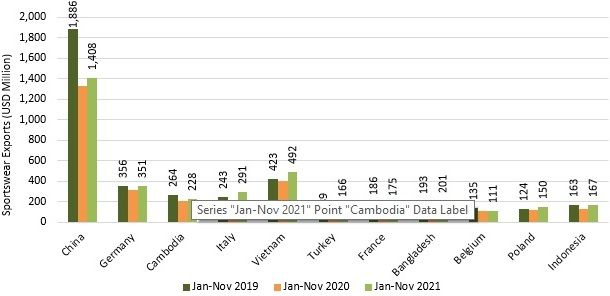 Source: TexPro
Imports yet to attain pre-pandemic levels
From the demand side, US remained the most attractive market for sportswear as lockdown restrictions were not as severe and consumption demand recovered relatively quickly. Focus on fitness, which is perhaps the leading indicator for activewear or sportswear products, showed an impressive shift in 2021. A report by Run Repeat, a global reviewer of athletic shoes, shows that 14.6 per cent more people took to outdoor activities like running, training, hiking, and walking to remain fit at the start of 2021 as compared to the beginning of 2020. Also, home fitness through the online mode increasingly became a preferred way to remain healthy.6 This, as reflected above, was at the cost of lesser people going to the gym, health clubs or organised fitness places for keeping themselves fit and healthy.
While the US market saw a healthy recovery in demand for sports apparel, not many markets were that quick to jump back. Germany, the largest importer of sportswear in Europe, recovered by 8.6 per cent y/y in January-October 2021 after a decline of 9.2 per cent y/y in January-October 2020. Although there was a global shift towards home workouts and fitness, Europe perhaps didn't see a significant recovery due to much stricter restrictions and a general lack of demand for apparel. For France, sportswear imports for January-November 2021 remained 9.7 per cent lower than imports for January-November 2019. Netherlands saw a strong recovery last year, however its sportswear imports in January-November 2021 were still lower by 10.4 per cent compared to 2019. Other large European importers like Spain and Italy saw only a tepid recovery in demand for 2021, whereas sportswear demand in Belgium was stronger, rising by 13.2 per cent y/y in January-November 2021 after a decline of 12.8 per cent in the same period of 2019.
Australia, one of the top 10 importers, saw tremendous pick-up in imports, rising by 39.0 per cent y/y in January-November 2021 after declining by 22.5 per cent y/y in January-November 2020. Also, Switzerland, which remains out of the top 10 but comes next, saw robust growth by 10.5 per cent y/y in January-November 2021 after only a slight fall of 0.9 per cent in January-November 2020. China is also growing as a large consumer of sportswear goods. Evidently, Chinese imports of sportswear apparel in January-November 2021 were up by 150.6 per cent from levels in January-November 2019.
Figure 8: Top sportswear apparel importers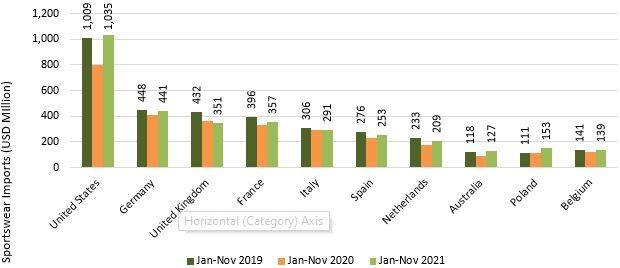 Source: TexPro
What's in the future for sportswear?
Demand for sportswear and activewear saw a swift recovery after a sudden impact when the pandemic hit. Shifting trends towards home fitness regimes and virtual coaching saved the industry from going into a longer period of drought in demand. The end of 2021 and beginning of this year saw a renewed surge in infections across Europe and many other countries. Although travel restrictions are likely to remain in place for a while, other economic activities may not be disrupted going forward. Supply challenges are also expected to relax by mid-year, which will boost overall trade further.
However, one of the dampening factors for the sportswear and activewear industry could be people going back to prior fitness and exercising regimes as things move towards more normalcy. Expectedly, activewear products are seen today as essential part of people's daily fitness regimes, but the continuation of this demand depends on how their behaviour compares with pre-pandemic times when there is no haunting health risk. On the other hand, demand will also depend on robust growth recovery across the globe. It is obvious that the demand for sportswear comes only from a certain group of income levels, correlating with those who are more active when it comes to staying fit. More rapid growth recovery will therefore be crucial for this market to perform robustly during the coming years.
Further, supply of sportswear will continue to evolve around sustainability lines. Supply from China could likely reduce further, and other Asian suppliers like Vietnam, Cambodia and Bangladesh may possibly see even greater number of orders. On the materials front, the move is increasingly towards using more natural fibres and pushing for chemical recycling of textiles, which would be game changing in achieving the sustainability goals of the industry.