NEW WILMINGTON, Pa. — On October 28th Sports Management Majors Tom Howell and Gia Francisco got the opportunity to travel to Ann Arbor, Michigan and attend the 2022 Michigan Sports Business Conference. These students got to interact with some of the most successful professionals in the sports industry. Some of which included Estee Portnoy, Michael Jordan's business manager and spokesperson, James Pitaro, head of ESPN, Bomani Jones, hosting the podcast 'The Right Time,' and so many more.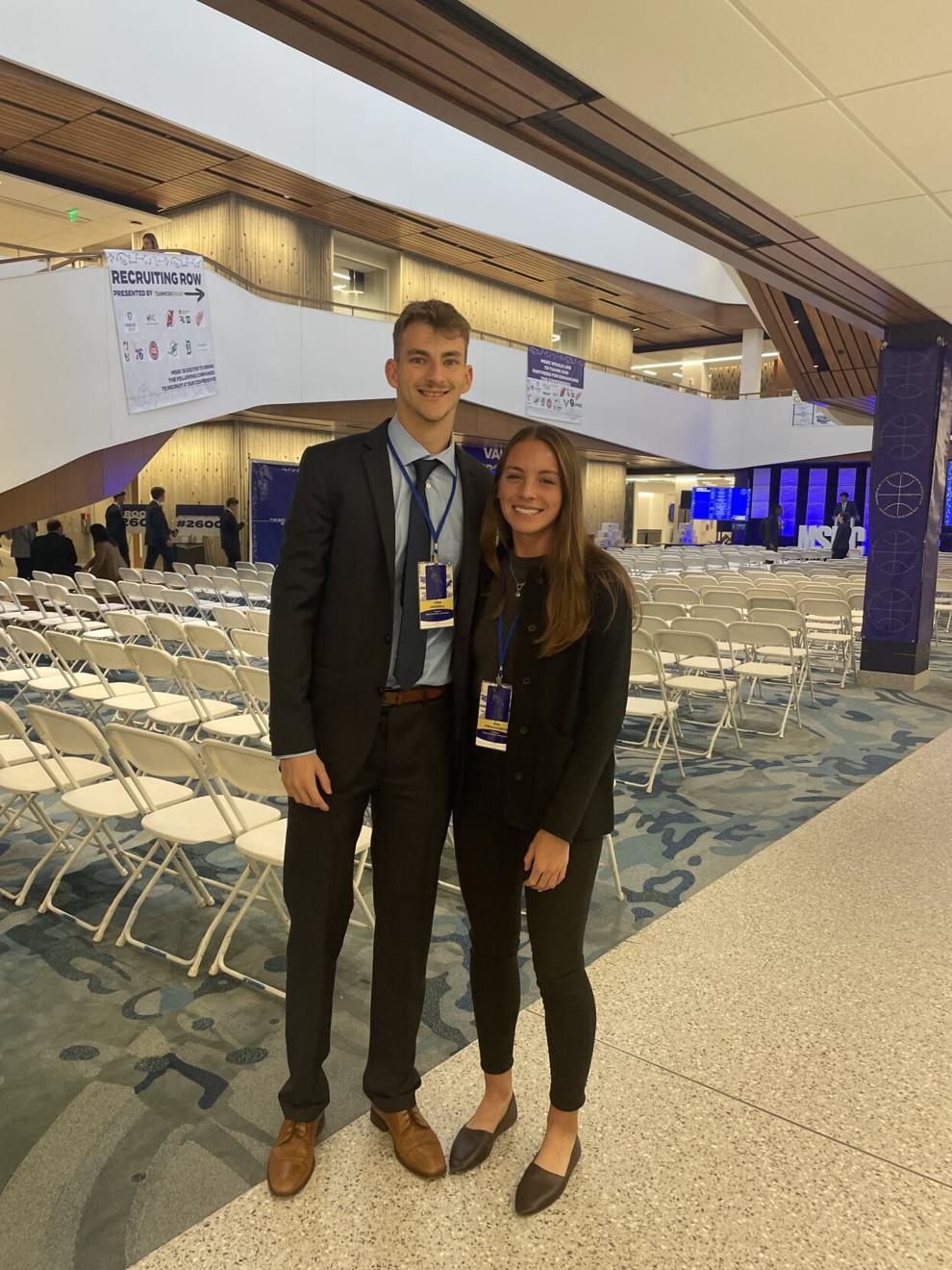 Sports Management and Business Department advisorRobert Zullo Ph.D., elaborated on how he found this conference and the opportunities he provides for his advisees.  
"The Michigan Sport Business Conference is one of the best conferences in the nation," Zullo said."The university is one of the best public institutions in America and their alumni base is significant in size and stature. We are fortunate to take advantage of the proximity to send students to Ann Arbor to experience the conference as well as a beautiful campus." 
The campus was, in fact, ginormous and beautiful. The student life created such a wonderful atmosphere, and the academic buildings were ones to remember, some old in structure but all newly renovated inside. Zullo also stressed the importance of taking advantage of the out of classroom experience.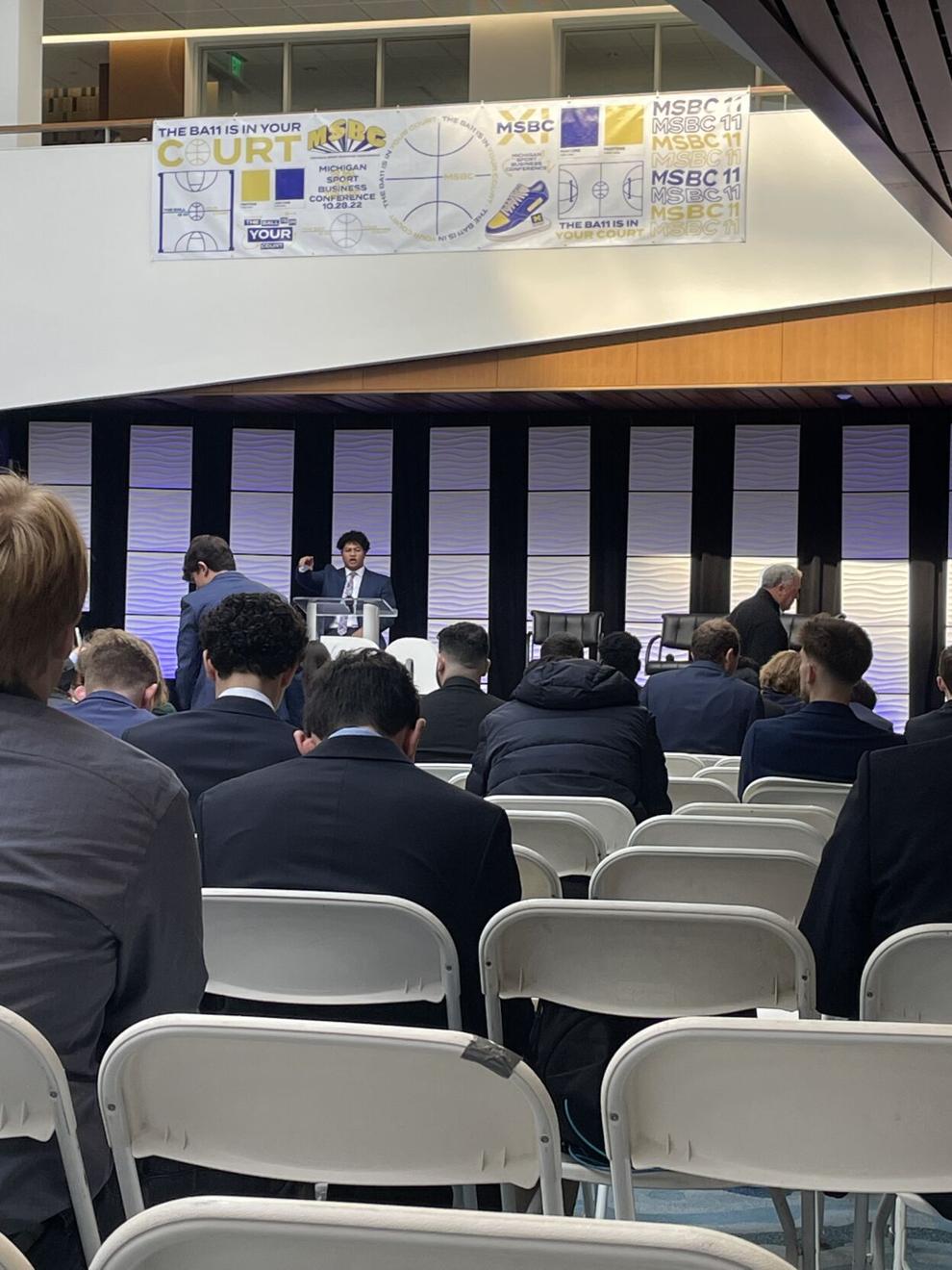 "Classroom learning is great, but the opportunity to network and hear from industry leaders about best practices and current issues are things that help our students further their professional development. Many students come away inspired about pursuing a specific segment of the sports business industry, while others open doors to internship opportunities. Attending conferences also helps our students to see their competition first-hand, hopefully inspiring them to return to our campus determined to fulfill their potential in the classroom and as campus leaders. " 
Senior triple majoring in Business Administration, Marketing & Professional Sales, and Sports Management, Tom Howell can attest to the inspiration that the conference provided. 
"I got a lot out of the conference," Howell said. "It was cool to be at a big-time school like Michigan with some of the top people in the sports industry talking to us in person. I would say I gained a lot of confidence through the conference by being able to talk to big time professionals in the industry and see how they can help you with your own aspirations." 
This idea of using the professionals to help aid you in future career aspirations corresponds well with Zullo's thought process. "Simply attending the conference is not enough as those in the industry want to see student's ambition," Zullo said."Students should use the conferences to talk to the speakers and follow up through contacting them. Those little things help separate themselves and move higher on the playing field." 
It is not a surprise Howell did just that. 
"I made a couple of LinkedIn connections after the fact and have been emailing with a couple of people that I was able to meet from it," he said. "It was successful because I have gained confidence within myself to talk to people. [The conference shows that] even if you are from a small D3 school you can still compete with people at D1 schools." 

If this was not amazing enough, Howell also elaborated on his favorite part of the trip,  
"My favorite part of the trip was being able to connect and hear from many big-time professionals. Being able to hear from the chair of ESPNJimmy Pitaro was so cool. Bomani Jones, who has his own podcast and starred on Highly Questionable, also. It was awesome to just be in the same room as these people! I would also say being able to visit downtown Ann Arbor and see the college town was an awesome experience as well." 
It is easy to say the two students that attended the conference made the most out of this opportunity and look forward to more experiences just like this. Continuing to make those connections and add to their resumes is just the beginning of their bright futures ahead.  
Zullo concluded with mentioning his excitement for future conferences and all the ones his students have attended this past fall.  
"Seeing our students returning to conferences after Covid has been very rewarding as students have attended the Michigan Sports Business Conference, the Robert Morris University Sport Management Conference and the Sports Leadership Summit in Lynchburg, Virginia, during the fall semester," he said."Other students are already looking ahead to the next conference in the spring at Penn State University." 
As Tom reaches closer to the end of his time as a Titan, his future looks amazing. He is already in the process of applying to graduate school and might end up back in Michigan,  
"For now, I will just be applying to graduate schools, but this motivates me to go to other conferences like this. I would also strongly recommend for any other sports management majors or even marketing or business majors, you should really take advantage of opportunities like this because it was such a cool experience and no matter your class year, I can guarantee it will be beneficial for you in the future!" 
To also mention all the professionals, I was able to meet and connect with. It was amazing to interact with these individuals in a setting that was not intimidating. Coming from an introverted background, each of the professionals I got the opportunity to talk to left me with helpful tips on how to work my way into the sports industry. Not leaving out any of the challenges and obstacles they have encountered along the way. It was such an amazing experience, and I cannot wait to attend more in the future.  
In the end, Westminster's Business Department Faculty genuinely care about their students and provide some of the best experiences in and out of the classroom. The faculty hopes more students take advantage of the opportunities right in front of them.