Lewis Hamilton described Max Verstappen's driving as "over the limit" of acceptability after the F1 title rivals' latest on-track controversies – and collision – in a heated and chaotic Saudi Arabian GP.
Following a race of dizzying incidents ultimately won by Hamilton, the title contenders were called before stewards to explain a bizarre collision on lap 37 when the Mercedes hit a slowing Red Bull up the back approaching the final corner.
Stewards ruled that Verstappen's "erratic" braking was the "predominant" cause of the accident and handed him a 10-second time penalty, although the sanction did not change his second-place finishing position or the fact the title contenders remarkably now head to this week's season finale in Abu Dhabi level on points.
Verstappen had already been handed a five-second penalty during the race for the incident earlier on in lap 37 which led to the call from Race Control for him to let Hamilton move ahead.
Wheel-to-wheel incidents and clashes have been commonplace for the duelling title rivals all season, with Hamilton often accusing Verstappen of being too aggressive in defence and attack, whereas the Dutchman has defended his driving as hard but fair.
Reflecting on the astonishing events of Sunday's 50-lap race around the debuting Jeddah street track, Hamilton told Sky Sports F1: "I really had to just try and keep my cool out there which was really difficult to do.
"I've raced a lot of drivers through my life in the 28 years [of racing] and I've come across a lot of different characters and there are a few at the top which are kind of over the limit. Rules kind of don't apply, or don't think of the rules."
Asked if Verstappen fell into that category, Hamilton replied: "He's over the limit, for sure.
"I've avoided collision on so many occasions with the guy and I don't always mind being the one that does that because you live to fight another day, which I obviously did."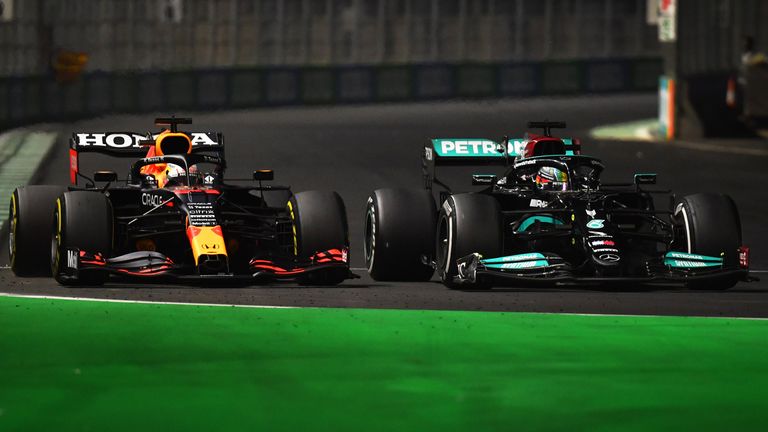 Hamilton accused Verstappen of "brake testing", hitting the brakes sharply, and said he was left wondering if the then-race leader was "playing some sort of crazy tactic?" approaching the DRS detection line.
In their ruling on the incident, stewards said: "Whilst accepting that the driver of Car 44 [Hamilton] could have overtaken Car 33 [Verstappen] when that car first slowed, we understand why he (and the driver of Car 33) did not wish to be the first to cross the DRS."
Verstappen's verdict: F1 'lately more about penalties'
Reflecting on the incident which saw Hamilton run into his car's rear, Verstappen told Sky F1: "I was downshifting and braking for him to go by. I don't understand why…maybe there was some confusion."
The 24-year-old Dutchman's bigger frustration with what he felt was fresh examples of over-officiating. In addition to the lap-37 incident that triggered the strange coming together with Hamilton later around the lap, Verstappen had already had to cede position to Hamilton earlier in the race when he defended his inherited lead against the Mercedes at the incident-filled race's first restart.
Where to start? We finished 2nd, after an eventful race and a lot of things happened that I don't fully agree with. I went for it on track and gave it my all. Thanks to all fans, for supporting me and voting me Driver Of The Day! On to Abu Dhabi #KeepPushing 🇸🇦 #SaudiArabianGP pic.twitter.com/5kV8083ebd

— Max Verstappen (@Max33Verstappen) December 5, 2021
Speaking on his slow-down lap after the race, Verstappen was informed over the radio that he had been voted the driver of the day.
"Luckily the fans have a clear mind about racing because what happened today is unbelievable," he replied. "I'm just trying to race and this sport lately is more about penalties than racing.
"For me this is not Formula 1."
The team bosses' views on latest Max vs Lewis controversy
Red Bull chief Christian Horner told Sky F1 that the lap-37 incident was "frustrating" and "very annoying" – but insisted that the team had told Verstappen to give the lead back to Hamilton prior to their crash, following quick-fire conversations with F1 race director Michael Masi.
"Max was trying to give the place up," said Horner. "We informed Race Control he was trying to give the place up."
Footage later emerged of Verstappen's race engineer telling him to give the place back "strategically".
"He lifted off," added Horner. "I think Lewis even lifted off, and I don't know whether he's messing around the the DRS line there but it was clear we were giving the place up.
"Lewis is slowing down behind him, it sounds like he's lifted off, but it's like he didn't want to pass him there because of the DRS.
Mercedes boss Toto Wolff however argued that the telemetry would prove that Verstappen was indeed "brake-testing", although he did also admit that Hamilton did not know Verstappen was going to let him through.
Echoing his lead driver's view, Wolff also suggested Verstappen's driving on Sunday was "over the line".
"It's hard, very hard, maybe over the line hard," he said. "We just want to have a clean championship – may the best man win – and if it's Max at the end then I have peace with that. But it needs to be a fair race."
The story of a dramatic Saudi Arabian GP
Lap 10: Mick Schumacher crashes into the barriers and Lewis Hamilton decides to pit under the subsequent safety car
Lap 13: Schumacher's incident brings out the red flag and Max Verstappen, who now leads the race ahead of Hamilton, is able to change his tyres under the rules
Lap 15: The race is restarted from a standing start and Hamilton makes the better get away before he's run off the track by Verstappen. Sergio Perez, Nikita Mazepin and George Russell all crash out, bringing out another red flag
Lap 17: Hamilton begins in second ahead of Verstappen after being pushed off the road at the previous restart. It's Verstappen who gets off best at the next race restart as he leapfrogs Hamilton and Esteban Ocon to reclaim the lead
Lap 18: Hamilton overtakes Ocon for second
Lap 37: Hamilton and Verstappen almost collide, with the Briton forced to take evasive action after being run wide. Verstappen is given a five-second penalty later in the race
Lap 37: Verstappen is told to concede the position to Hamilton, but as the Dutchman is preparing to let him past, the seven-time world champion runs into the back of the Red Bull
Lap 42: Hamilton overtakes Verstappen before the 24-year-old reclaims the race lead
Lap 43: Verstappen lets Hamilton back through for first place
Lap 50: Hamilton takes the chequered flag to win a dramatic Saudi Arabian GP as both drivers go into next weekend's season decider level on 369.5 points
Sunset Showdown: Watch Verstappen vs Hamilton decider live on Sky Sports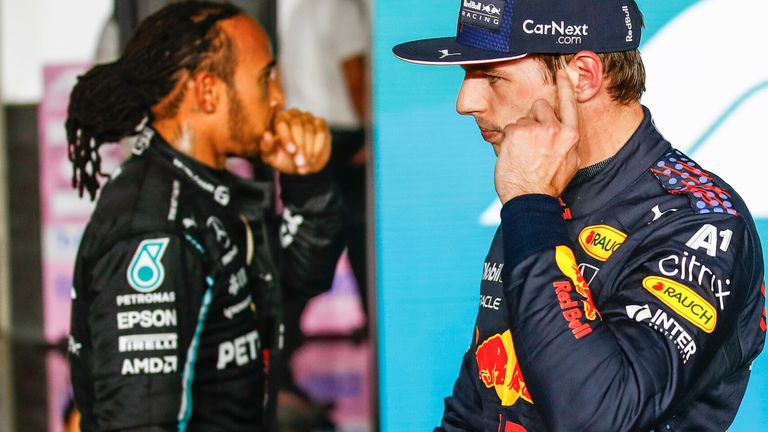 Level on points, one race to go and one champion to be found.
Nine months after it began, Max Verstappen and Lewis Hamilton's gripping title duel comes down to a winner-takes-all showdown under the floodlights of the Abu Dhabi Grand Prix's Yas Marina circuit.
Watch all the action live on Sky Sports F1. The track action starts on Friday at 9.30am, with Sunday's title-deciding race at 1pm.
Follow all the latest updates and analysis through the week on skysports.com, the Sky Sports App and Sky Sports News, plus also stay up to speed via Sky F1's social platforms – Twitter, Instagram, Facebook and YouTube.