Russian Dota 2 player Ivan "Pure" Moskalenko and the rest of the Virtus.pro roster have been disqualified from a qualifying match for the approaching ESL A person Stockholm Major after Moskalenko appeared to convey assistance for Russia's invasion of Ukraine by drawing a huge letter Z on the in-recreation map.
A Yahoo report suggests the incident took put all through a pause in a semi-remaining match between Virtus.pro, which played as "Outsiders" in order to evade an ESL ban on Russian-dependent esports teams, and Thoughts Game titles. The Z was plainly visible on the map but only for a few of seconds—Moskalenko's teammates, probably anticipating difficulty, promptly scribbled above it.
The letter is important mainly because of its use by Russian forces invading Ukraine. Z does not exist in the Russian alphabet so what it basically signifies in that context is just not apparent: Some have theorized that it stands for "zapad," an Anglicized version of "запад"—meaning "west"—or it could be just makeshift insignia aimed at assisting improperly-skilled soldiers differentiate in between Russian and Ukrainian units.
Whatever its preliminary goal, Z has because been adopted by civilians in Russia and other countries as a symbol expressing help for the invasion of Ukraine. Russian gymnast Ivan Kuliak, for instance, not too long ago taped a Z to his uniform through a medal ceremony at a Earth Cup occasion in March he faces the feasible loss of his bronze medal and a just one-year suspension from opposition for his steps.
Kuliak stood by his Environment Cup actions, telling RT (by using The Guardian) that he was expressing his placement. Moskalenko, on the other hand, denied any political intention guiding the Dota 2 scribble. 
"There was a extensive pause in the recreation. The guys and I had been chatting and drawing on the minimap," he explained on Twitter. "When we realized what precisely my drawing turned out to be, we tried out to address it up. I didn't signify to offend any individual, it all happened by accident."
Tournament organizer Over and above the Summit was not certain, nevertheless, and opted to disqualify the full Virtus.pro staff from the celebration.
Moskalenko's issues grew even worse the future working day. Even with his rationalization, Virtus.professional terminated Moskalenko's deal. He had only joined the workforce in November 2021.
"The severity of the punishment is surprising," the group wrote. "Valve has a specific record of imposing disciplinary steps, but disqualifying the total group from a DPC match based on a drawing on a minimap by [a] one participant sets up a total new precedent.
"Any actions have outcomes, no matter whether intentional or not. Virtus.professional has been constantly opposing any conditions of inciting hatred in esports. The club terminates [its] agreement with Ivan 'Pure' Moskalenko for his diminishing steps that led to disqualification from the match and induced a terrific offer of damage to our connection with the globally esports society."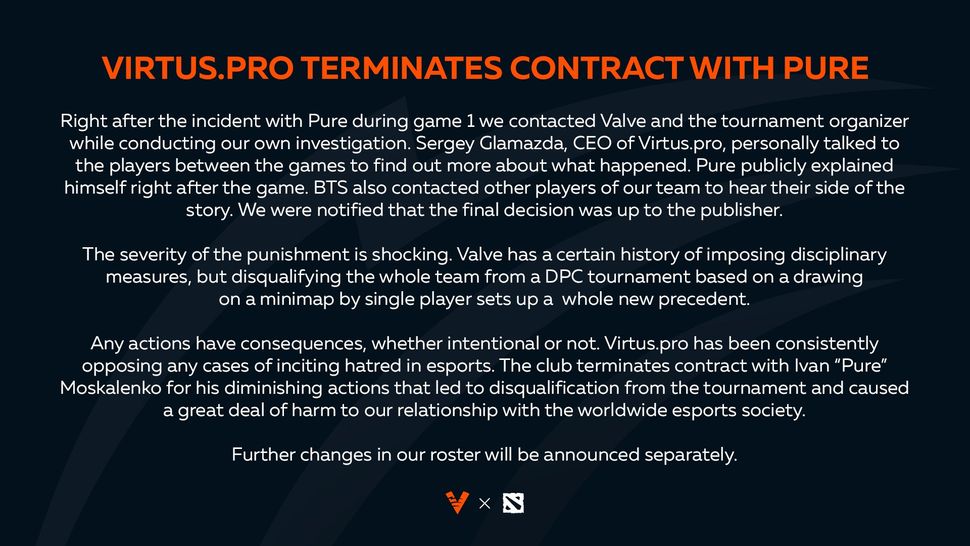 In April, Blizzard taken out the Z monogram from Zarya's Arctic and Siberian Entrance skins. The company failed to comment on the factors for the removal, but the assumption is that the image was minimize from the character—a Russian soldier, prior to signing up for Overwatch—in buy to stay clear of the possibility of related connections with the invasion of Ukraine.  
I've reached out to ESL for comment and will update if I get a reply.