Boosted by robust growth in North America and EMEA region and better-than-expected margins, Columbia Sportswear's earnings rose 19.5 percent in the first quarter on a 21.7 percent revenue gain. The outerwear mainstay raised its earnings guidance for the year and indicated fall bookings have strengthened.
On a call with analysts, Chairman, President and CEO Tim Boyle said, "Our first-quarter net sales were generally in line with our internal plan. When combined with strong gross margin performance and lower-than-planned SG&A expenses, diluted earnings per share exceeded our expectations."
In the quarter ended March 31, sales reached $761.5 million, just below Wall Street's consensus estimate of $762.69 million. The increase reflects strong double-digit gains for the Columbia brand and Sorel; robust double-digit growth in the U.S., Canada and EMEA regions, and mid-teens growth in the APAC region. Strength was seen across footwear and apparel categories, as well as across wholesale and direct-to-consumer (DTC) channels. The gains came despite supply chain-related days.
Q1 Earnings Beat Wall Street Consensus By 17 Cents
Net income increased to $66.8 million, or $1.03, topping Wall Street's consensus estimate of 86 cents.
The quarter's beat reflected better-than-expected gross margins, which contracted 170 basis points to 49.7 percent, primarily driven by higher inbound freight costs, unfavorable year-over-year changes in inventory provisions, unfavorable regional sales mix, and lower wholesale product margins, partially offset by higher DTC product margins.
EPS growth also benefited from SG&A expenses shrinking to 39.3 percent from 40.7 percent a year ago due to sales leverage. Overall, SG&A sales were up 18 percent to $299.1 million, reflecting higher marketing global retail and personnel expenses and unfavorable year-over-year changes in bad debt provisions compared to the first quarter of 2021.
Operating income increased 18.7 percent to $83.7 million. Operating margin eroded to 11.0 percent of sales from 11.3 percent a year ago.
The EPS growth also reflected elevated share repurchase activity. Columbia repurchased $217 million of its shares during the quarter, representing a reduction in shares outstanding since December 31. Columbia's board has approved a $500 million increase to its share repurchase authorization.
Sales In The U.S. Expand 23 Percent
By geographic region, sales in the U.S. rose 23 percent to $501.9 million, with DTC and wholesale businesses increasing low-twenties.
"Favorable weather early in the quarter fueled strong late-season cold-weather product sales," said Boyle. "As the quarter progressed, the combination of lean spring 22 inventories at retail and the anniversary of prior year government stimulus resulted in sales growth moderating in March."
Columbia's U.S. DTC business comped positively across all channels. Brick-and-mortar traffic levels continued to improve, with U.S. outlet store traffic returning to pre-pandemic levels. U.S. wholesale growth reflected higher shipments of its Spring 2022 order book.
"Sales growth would have been even higher had it not been for later receipts and shipments of spring '22 products," said Boyle. "Overall, these delays were largely in line with our expectations."
Boyle said it's too early in the season to get a good read on Spring 2022 sell-through at retail partners as many are still processing shipments. He added, "With that said, we've been pleased with our recent DTC sell-through. We anticipate being well-positioned with merchandise to meet consumer demand during the important spring holidays and summer sales months."
LAAP's Sales Climb 14 Percent
Sales in Latin America and Asia Pacific (LAAP) region climbed 14 percent on a currency-neutral basis (9 percent reported) to $121.7 million.
China was flat in the quarter as favorable cold weather sales were offset by the impact of recent mandatory quarantines due to to a COVID-19 outbreak in the region. Boyle said, "While the recent surge in virus cases creates near-term uncertainty, long term, we remain focused on driving growth and enhancing the consumer experience in this important market."
Japan increased mid-teens, reflecting favorable weather this year and the lapping of state of emergency declarations, which hindered sales in the prior year. Korea grew high-teens, reflecting favorable weather and strong outerwear performance. LAAP distributor markets were up mid-60 percent, driven by shipment of higher Spring 2022 orders. 
EMEA Sales Jump 42 Percent
Europe, Middle East and Africa (EMEA) sales reached $94.7 million, up 42 percent on a currency-neutral basis (34 percent reported). The gains were driven by growth in the Europe Direct and EMEA distributor business. Europe Direct grew high 30 percent, fueled by a recovery in consumer demand across wholesale and DTC. Said Boyle, "Our performance in Europe direct markets has been encouraging, and we've seen a minimal impact from the Russia/Ukraine conflict in these markets to date."
The EMEA distributor business was up low-sixties, driven by shipments of higher Spring 2022 orders. The bulk of its Spring 2022 shipments to its Russia-based distributor occurred in the fourth quarter of 2021. A small portion of these Spring 2022 shipments occurred in the first quarter of 2022 before the onset of the conflict.
In Canada, sales rose 27 percent on a currency-neutral basis (26 percent reported) to $43.2 million, with broad-based growth across DTC and wholesale. Growth was led by its brick-and-mortar business which benefited from the anniversary of the prior year's temporary store closures.
Columbia Brand Sales Climb 24 Percent
By brand, sales for the flagship Columbia brand increased 24 percent on a currency-neutral basis (22 percent reported) to $643.8 million. Boyle said the gains were broad-based across outerwear, footwear and sportswear.
On the innovation front, the Columbia brand recently introduced Out Dry Extreme mesh fabric, Tech live Plush cushioning in footwear, and the PFG Terminal Deflector Ice Hoodie. The brand also partnered with Kith on a collaboration. Boyle said of the Kith alliance, "The collaboration honored our outdoor heritage while engaging a younger audience. Several of the top styles sold out online within an hour, attesting to the equity of the Columbia brand in that space."
In marketing, Columbia celebrated International Women's Day with a campaign celebrating its founder Gert Boyle, hosted an interactive booth at the Daytona 500 tied to its sponsorship of Bubba Wallace and is partnering with country singer and ambassador Luke Combs, shown lead image, on a hunting collection.
Boyle also said Columbia's sponsorship of the USA Curling team "is off to a tremendous start. The Columbia uniforms and our logo were prominent throughout several weeks of Olympics competition, and the events captured the attention of new and avid curling fans alike."
Sorel's Revenues Jump 38 Percent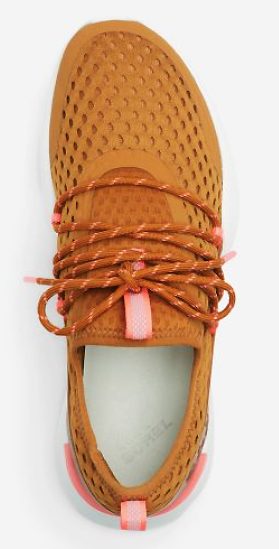 Sorel's revenues jumped 38 percent on a currency-neutral basis (37 percent reported) to $63.6 million. Boyle noted that the gain came despite supply challenges and was driven by strong wholesale and DTC performance. In addition to favorable cold weather product sales, Sorel continues to see year-round styles gain traction. Boyle said the Kinetic Impact Lace, shown right, was the number one style for units sold on sorel.com, highlighting the brand's traction in the sneaker category.
Said Boyle, "As consumers return to in-person social activities, Sorel has seen a tremendous resurgence in their wedge category led by the Out N About collection. Sorel recently partnered with LA-based Alfred Coffee to create a limited-edition collection inspired by the brand's two most popular beverages, their world-famous Ice. We see a clear path for Sorel to be a $1 billion brand, and we are investing in demand creation and product to fuel that growth."
Prana And Mountain Hardwear Show Moderate Growth
Prana's sales were up 4 percent on both a currency-neutral and reported basis to $32.7 million.
"Sales growth in the quarter was constrained by late receipt of Spring 2022 inventory," Boyle said of Prana. "Recently, Prana and Sorel teamed up for an apparel and footwear collab. This new collection includes sneaker and sandal styles that feature the iconic design and comfort that Sorel is known for and an elevated active apparel collection with Prana sustainability ethos."
Mountain Hardwear's revenues were up 6 percent on a currency-neutral basis (5 percent reported) to $21.4 million. Sales growth was constrained by a late receipt of Spring 2022 inventory, resulting in some shipments moving into the second quarter. As a result, Mountain Hardware's second-quarter net sales growth is expected to exceed the brand's first-quarter performance. Boyle said, "For Spring 2022, Mountain Hardwear introduced its core air shall collection. This light, packable stretch layer repels wind and water, while it breathable fabrics provide a near weightless feel."
By product category, apparel, accessories and equipment sales were up 22 percent on a currency-neutral basis (21 percent reported) to $565.9 million. Footwear rose 27 percent on a currency-neutral basis (25 percent reported) to $195.6 million.
By channel, wholesale sales were $408.2 million, up 23 percent on a currency-neutral basis (22 percent reported). DTC advanced 24 percent on a currency-neutral basis (22 percent reported) to $353.3 million. Within DTC business, brick-and-mortar increased 22 percent while e-commerce gained 21 percent.
Inventories increased 36 percent at the close of the quarter, to $714.4 million, compared to $525.7 million as of March 31, 2021. Inventory at quarter-end primarily consisted of current and future season products. Aged inventories represent a manageable portion of the company's total inventory mix.
2022 EPS Guidance Raised
Mid-single-digit net sales growth and near breakeven earnings are expected for the second quarter. Said Boyle, "This lower level of sales growth reflects the removal of Fall 2022 shipments to our Russia-based distributor as well as the impact of the rise of COVID-19 cases in China. Quarantines and closures across several regions in China have reduced near-term consumer demand in that market."
Columbia reiterated its sales guidance for the year as strengthening fall bookings is expected to offset an approximately 2 percent headwind as the company has paused taking any new orders from its Russia-based distributor. EPS was raised due to better-than-expected margins and reduced share count from expected stock buybacks.
Columbia's updated guidance for the year calls for:
Sales to increase 16-to-18 percent to $3.63 to $3.69 billion, the same as previous guidance;
Gross margin to contract approximately 130 basis points (prior 160 basis points contraction) to approximately 50.3 percent (prior approximately 50 percent);
SG&A expenses to increase at a slightly slower rate than sales growth and increase as a percent of sales to 37.3-to-37.7 percent (prior 37.2 to 37.5 percent), compared to 37.8 percent in 2021. As a percent of sales, demand creation is anticipated to be 6.0 percent in 2022, compared to 5.9 percent in 2021;
Operating income is expected to be $477-to-$502 million (prior $472 to $498 million), resulting in an operating margin of 13.2-to-13.6 percent (prior 13.0 to 13.5 percent) against 14.4 percent in 2021;
The effective income tax rate is expected to be approximately 24.0 to 24.5 percent (unchanged);
Net income is expected to be $363-to-$382 million (prior $359-to-$379 million), resulting in EPS in the range of $5.70-to- $6.00 (prior $5.50-to-$5.80), against record results of $5.33 in 2021.
Photo courtesy Columbia Sportswear/Luke Combs